The Tennessee Lady Vols take on the Baylor Bears tonight in the Elite 8 of the NCAA Women's Basketball Tournament
The Baylor Bears are just two victories away from the National Championship game in Denver, but first they have to get out of Des Moines, and that means beating the Tennessee Lady Vols.


KnoxVegasVols readers know that this has been anything but a typical season for the Lady Vols and Coach Pat Summitt, but right now this is the NCAA tourney and that means it will be nothing but business as usual inside the locker room and on the court this evening.


While the University of Tennessee has long been considered "elite" in women's college basketball, the team entered the tournament 27-8 and a #2 seed. The Baylor Bears were seeded #1 and remain undefeated thus far.

Coach Summitt has been vocal that she would like to win another championship (her ninth) but the obstacle currently in her way is Baylor tonight in the Regional Finals.


The emotional element of Pat Summitt's dementia diagnosis is not lost on Baylor head coach Kim Mulkey, who has already commented, "I don't take great pleasure in coaching against Pat Summitt. She is a personal friend. She's a mentor.... Tennessee has done a heck of a lot more in women's basketball than we have." Mulkey added, "We are still trying in our own way to become respected like Tennessee is...."
But there is no love lost when two teams meet with so much at stake.
The second of Tennessee's eight losses this season was a 76-67 defeat to Baylor in Thompson-Boling Arena in November. Baylor has junior center Brittney Griner, who has been working on her highlight reel apparently. Griner walked away from the 83-68 win over Georgia Tech Saturday night with 35 points, 10 rebounds, six blocked shots and a two-handed slam dunk. She continues to show that she is one of the best seen in the sport in years and no one has found a way yet to stop her in the paint.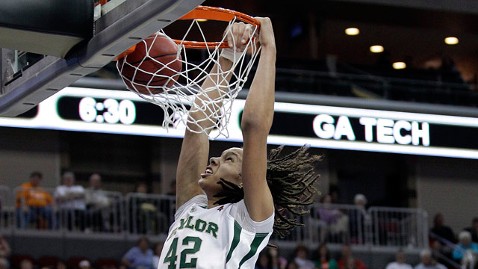 Tennessee has not seemingly been challenged thus far in the tournament, despite being down 14 points against Kansas before staging an impressive comeback late in the half. Baylor presents an entirely new test for the Lady Vols. One that they are not expected to pass.

In looking at few basic keys to the game for the Lady Vols tonight, it is foremost that Brittney Griner be contained while Glory Johnson will be expected to step up and stay on the boards for UT.

Meighan Simmons will also have to keep the scoring mentality she showed against the Jayhawks up against the Bears. Simmons scored 16 of her 22 points off the bench in the second half on Saturday. She will need to bring that and more to the table against the Bears.

The Lady Vols have superior depth and keen athleticism on their roster, but make no mistake this test will be their hardest one yet this season and one that they will have to pass to reach a record 19th Final Four appearance. Fortunately for the team, coaches and fans, Tennessee knows how to dig deep and play tough. Don't let an upset tonight surprise you.
#WeBackPat