Five realistic candidates for the University of Tennessee Basketball head coaching job.
A program within the Tennessee athletic department is once again in turmoil. Athletic director Mike Hamilton is on his third high-profile search for the next flavor of the month to coach Tennessee's reeling basketball program.
This time around, however, Hamilton has a much better product to offer than he did in 2005. Bruce Pearl's influence made the way for better basketball facilities, a much improved Thompson-Boling Arena, and a consistent top 25 program at Tennessee.
Unfortunately, Pearl's recent indiscretions ensured that he wouldn't be there for further improvements to a program that was well on its way to becoming elite.
So, the obvious question becomes; who will pick up where Pearl left off?
You've likely heard many candidate names by now. Some names being mentioned are longshots at best. Others are borderline ludicrous.
There are, however, five names being bandied about that not only make the most sense for Tennessee, but these five represent the most likely pool of names from which the future Vols basketball coach will be picked.
Here are those five names:
Anthony Grant
Alabama head coach Anthony Grant was the hot name coming out of March, after he lead his Virginia Commonwealth Rams to a near upset of 4-seed UCLA in the first round of the NCAA tournament.
Grant averaged 25 wins per season in his three years at VCU and knocked off No. 6-seed Duke in the first round of the '07 NCAA tournament.
A longtime assistant of Billy Donavan, Grant had a hand in recruiting some of the best talent in the SEC for much of the last decade.
Currently, Grant has his Crimson Tide team in the semi-finals of the NIT tournament after a 21-11 season led to an NCAA tournament snub--despite Alabama winning the SEC West.
Tennessee is an elite job compared to the Alabama gig. While both are considered football schools, Tennessee basketball ranked No. 5 in attendence in 2010. Combine that with the fact that Grant's second 'Bama team won its division which still wasn't enough make the NCAA tournament, and you can see why Grant might be intrigued by the Vols job.
Grant makes $1.8M a year at 'Bama and has a $1.225M buyout on his contract.
Presumably it would take a significant bump in salary for Grant to leave what he's started in Tuscaloosa.
Cuonzo Martin
While Martin's resume as a head coach may be short and relatively unproven, his eight year stint as an assistant coach under Purdue legend Gene Keady and Keady's young successor Matt Painter should be considered impressive in its own right.
After all, Keady had a direct influence on the careers of Bruce Weber, Steve Lavin, and Kevin Stallings after the three spent a combined 27 seasons on the Purdue coach's staff.
Martin took over mid-major, perennial NCAA tournament snub Missouri State after the '07-08 season. After enduring an 11-20 season in '08-09, Martin led the Bears to a 24-12 record and the CollegeInsider.com Tournament championship in '09-10.
Martin was Coach of the Year in the Missouri Valley Conference this season, after leading Missouri State to the regular season conference title. The Bears went 26-8 and made it to the second round of the NIT tournament.
Shaka Smart
If you want unproven, Shaka Smart should be right up your alley. Smart
isthe flavor of the month only because his Virginia Commonwealth team is playing the Sweet 16 after being ridiculed as an undeserving participant in the NCAA tournament a couple weeks ago.
Smart took over at VCU after Grant left for Alabama before the '09-10 season.
VCU won 27 games last season and is going for win No. 27 this season in the Sweet 16 this weekend.
Smart has experienced this success with a roster largly put together by Grant. Smart is certainly good with X's and O's, but recruiting at this point has to be a total question mark.
Smart has been an assistant at Akron, Clemson, and Florida.
Donnie Tyndall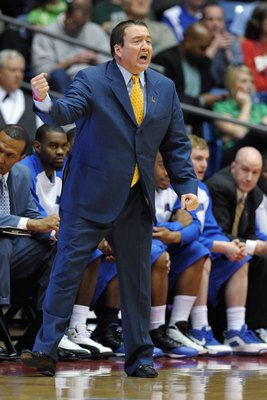 A week ago at this time Tyndall and his Morehead State team were celebrating an improbable first round NCAA tournament victory over 4-seed Louisville. That win is the reason Tyndall made this list.
Tyndall has plenty of experience as an assistant at various stops. Having served under John Brady's LSU staff, Tyndall not only has SEC experience, but his recruiting prowess helped pave the way for LSU's early 2000s run of success.
The 2007-08 Ohio Valley Conference Coach of the Year, also has experience in the state of Tennessee, serving on Middle Tennessee's staff from '02-06.
Tyndall would likely one of the last resorts for Tennessee, but his resume certainly has a few positives.
Rick Byrd
Don't look for Belmont coach Rick Byrd to be a top candidate anytime soon, but if the looming NCAA cloud scares off the top hopefuls, Tennessee might just have to rely on one of its own.
Byrd is from Knoxville and graduated from Tennessee in 1977. He served as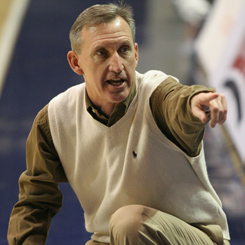 a student assistant under legendary Tennessee head coach Ray Mears.
Byrd has been the head coach at Belmont for over 25 years, taking the program from NAIA power to consistent NCAA mid-major over that span.
As a member of the Atlantic Sun Conference, Byrd has taken Belmont to four of the last six NCAA tournaments.
Byrd is by far the oldest candidate on this list. At almost 58 years old, Byrd does not fit the mold for this job, but he could prove to be a Godsend if the other candidates aren't thrilled with the impending NCAA situation at Tennessee.