NSD predictions on the four remaining uncommitted prospects left on Tennessee's board.
With National Signing Day looming on the horizon, it's prime-time for predictions and prognostications. The Vols currently have four names on top of their recruiting board, and all of which are set to make their decision tomorrow. Currently ranked at 13th in the Rivals.com team recruiting rankings, the Vols have an opportunity to sneak into the Top 10 with a solid day tomorrow.
Here are my predictions on the remaining targets for the Vols.
Quinshad Davis 4* WR:
Davis is a big-bodied wide receiver from Gaffney High School in Gaffney, South Carolina. Ranked as a four-star by Rivals.com, the 6'3'' wide receiver is also listed as member of the Rivals 250, and he has narrowed his choices down to Tennessee and Wake Forest. With only five scholarship wide receivers on the roster, the Vols have a desperate need for wide receivers and have two remaining on their board. It's safe to say that they feel the most comfortable with their chances with Davis, having received the last visit. Davis came away impressed with Knoxville after his visit last weekend, where he was sold on the possibility of being one of the go-to options after the imminent departures of Justin Hunter and Da'Rick Rogers.
Tennessee's chances: 70%
Korren Kirven 4* DT:
Kirven is another Rivals 250 member from Lynchburg, Virginia, who is set to make his decision tomorrow between Tennessee and in-state favorite Virginia Tech. The Vols appear to be underdogs to the Hokies, who received the last visit, but the Kirven is extremely comfortable with Tennessee having visited Tennessee three times. Kirven's size gives him the versatility to play the three-technique in a four-man front or as a five-technique in a three-man front, and as the Vols look to transition to the 3-4 defense, it's that versatility that makes Kirven so highly coveted.
Tennessee's chances: 40%
Amos Leggett 4* CB:
The number one concern with Amos Leggett is, and will continue to be, grades. Leggett is ranked as the ninth-best cornerback in the country and boasted offers from all of the nation's top programs, and at one time was committed to Miami. However, grades became a major concern, forcing Leggett to verbal to Marshall, who has decidedly less stringent academic requirements. The Vols have all the momentum to steal Amos' signature tomorrow morning, but it will all come down to whether or not they can convince him that he'll qualify. I like the Vols here, but even if they get a commitment from Leggett, this will continue to be a battle until he is enrolled and cleared.
Tennessee's Chances: 60%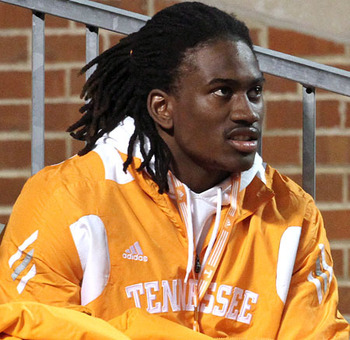 Cordarrelle Patterson 4* JUCO WR
Patterson is a dynamic play-maker at wide receiver, and he's the fourth-ranked JUCO player in the country. For quite some time, it appeared that the Vols lead for Cordarrelle's services, but the longer the process lasted the larger the Georgia Bulldogs lingered. Now, a recent visit to Ole Miss also has the Rebels within striking distance, and LSU is also fighting desperately to get into the picture. Patterson has been pretty tight-lipped about which way he's been leaning, so it's impossible to get a true read on Patterson, but I've got a hunch that UGA is the team to beat here.
Tennessee's chances: 30%